NetIO Server Plug-in
The NetIO Controller application is a general purpose, user-configurable remote device controller for Android and iPhone/iPad products. As such, it can be used to provide a means to control and display status of HomeVision objects on a smartphone or tablet. The NetIO Controller application is an independently developed commercial application and is available on the Apple and Google stores for a nominal fee. Application details can be found at the NetIO Controller Application website.

The NetIO Server Plug-in provides a server interface between the NetIO Controller application and HomeVision, allowing the user to control and get status from HomeVision via the NetIO Controller application. Users can create their own screen layouts for controlling and displaying all available HomeVision objects. While not exactly the same, the NetIO Controller application is conceptually similar to the control plug-in.
You can create multiple pages with label, button, switch and slider widgets that can be easily positioned and reshaped via a web-based layout editor.
The widgets can be configured to display text or an image, both of which can be based on an object's state.
Widgets can perform actions. A button widget can perform a sequence of actions, like setting a variable and then executing a macro.
The application optionally tracks object status updates via polling.
Coupled with the NetIO Server plug-in, the NetIO Controller application can provide:
"Universal" remote control of home entertainment systems (via HomeVision IR commands),
Control of all other standard HomeVision objects: X-10, custom lights, inputs, outputs, HVAC, flags, variables, analog inputs, digital temperature sensors, timers, security, macros, scheduled and periodic events.
In addition to the standard HomeVision objects, "custom" objects can be defined and displayed.
Weather information from the Weather plug-in can be displayed (version 5.0 or later).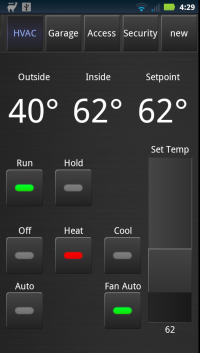 The NetIO application can be "attached" to multiple systems, so it can control and display other things besides HomeVision. For example, you can display camera video if it is available via an http link.
See the NetIO Server plug-in help pages for setup and operation details.